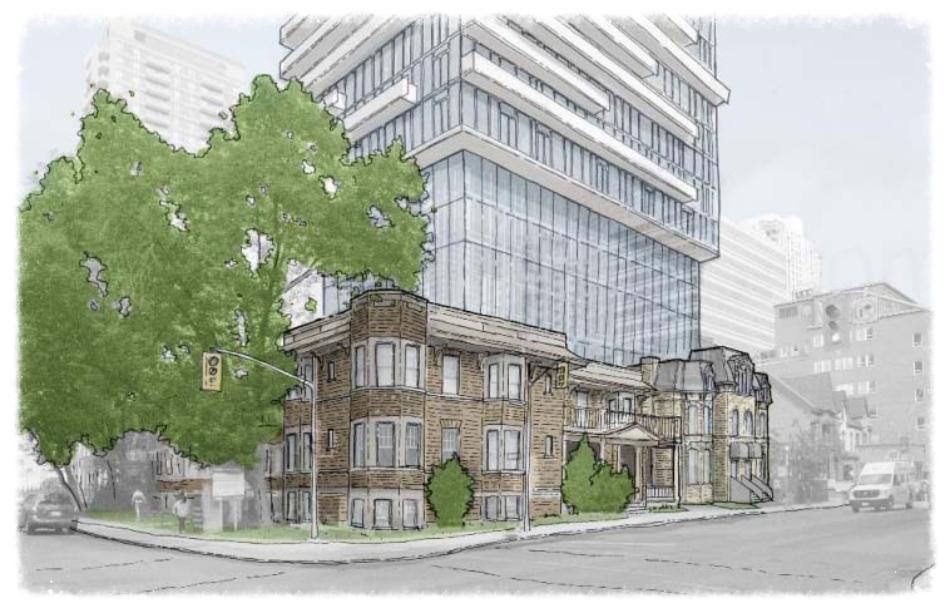 the charles at church Condos

by Aspen Ridge Homes 47 storeys Coming Soon
The Charles at Church Condos is a new mixed-use high-rise condominium development by Aspen Ridge Homes currently in pre-construction at 628, 634, 636 & 638 Church Street in downtown Toronto, Ontario. This is a proposed 47-storey building with 395 condominium suites designed by Quadrangle Architects Limited of which 20 will be rental replacement units. There is also 349 square metres of retail use space proposed and some of the front portions of the existing heritage buildings will be incorporated into the base of the tower.
The Charles at Church Condos is being developed by real estate developer and builder Aspen Ridge Homes based in Concord, Ontario. They have over 25 years of experience building homes for families throughout Ontario and is "one of Ontario's top new home/condo builders". Aspen Ridge's strength "lies in understanding the needs of today's homeowner". They have incorporated this knowledge with the creative visions of the architects and designers that they work with to build fine quality homes one community at a time.
Aspen Ridge Homes' mission is to continue to strive to exceed customers' satisfaction and expectations. They also have a philosophy that "embodies excellence, craftsmanship, quality and care". Aspen Ridge Homes is a builder with a huge heart giving back to their communities by donating to numerous great causes throughout the Greater Toronto Area and is constantly trying to achieve new technological innovations building greener communities for families of the future.
"Tradition, expertise and commitment are what keep Aspen Ridge Homes strong. Time and again, Aspen Ridge Homes builds communities of dreams that last a lifetime."
Quadrangle Architects Limited is an award-winning Toronto based architectural firm founded in 1986 and employs over 100 architects. They have "high-profile clients in media, hospitality, retail and other sectors, as well as leading developers of multi-unit residential projects". Quadrangle Architects Limited is an industry leader because "what everyone at Quadrangle shares in common is a passion for innovative design thinking that meets the real-world challenges of our clients."
Together, Aspen Ridge Homes and Quadrangle Architects have collaborated to design and build the The Charles at Church Condos with 47 storeys coming soon to downtown Toronto.
Register with us today for more details on The Charles at Church Condos Platinum VIP Access By Aspen Ridge Homes!