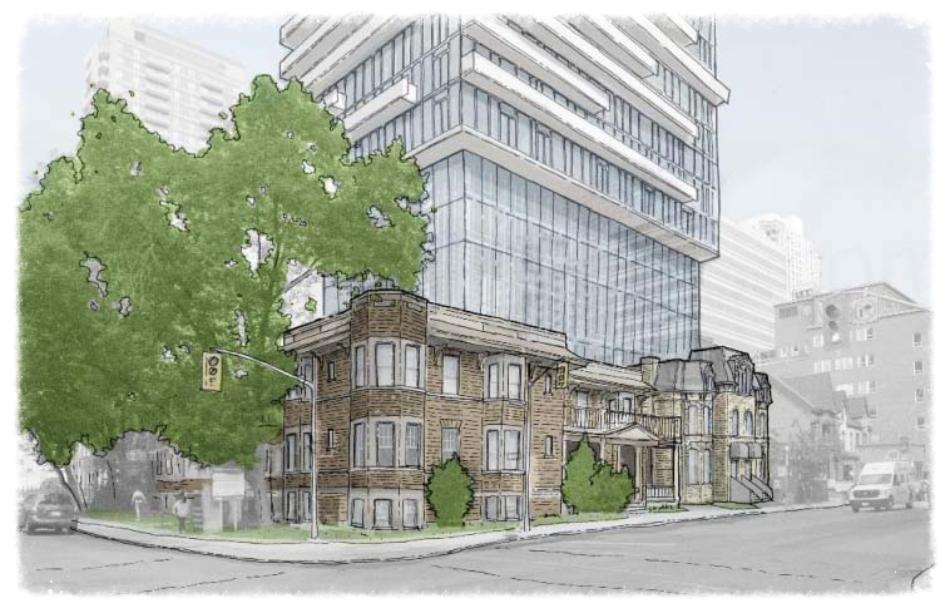 the charles at church Condos

IN PRE-CONSTRUCTION BY ASPEN RIDGE HOMES
Welcome to Classical Modern Luxury Living. The Charles at Church Condos is a new mixed-use condominium development currently in pre-construction at 68 and 70 Charles Street East and 628, 634, 636 & 638 Church Street in Toronto, Ontario by Aspen Ridge Homes. It is a proposed 52-storey building containing 439 condominium units and 20 rental replacement units with 349 square metres of retail use space at grade level designed by Quadrangle Architects Limited.
The luxury high-rise residential tower by Aspen Ridge Homes' proposal includes keeping the front portions of the existing heritage buildings and incorporating them into the base of the mixed-use 52 storey (162 metres in height) building that will contain 9 residential suites and retail use space. There are 459 dwelling units proposed of which 439 are condominium suites and 20 are rental replacement units. Of the total 459 units proposed, 328 will be one-bedroom units, 100 will be two-bedroom units and 31 will be three-bedroom units. Balconies are proposed from the 8th to 52nd floors and the rental units are from the 5th to 7th floors. Residential entrance for Charles Church tower is into the lobby via Church Street and total residential gross floor area is 35,434 square metres and total retail gross floor area is 349 square metres.
The high-rise tower is located on the northeast corner of Charles Street East and Church Street in Toronto and is rectangular in shape. The proposal includes the demolition of the additions at the rear (634 & 636) compromised of two buildings as well as the 638 Church Street building which is currently a 3-storey house containing a wellness practitioner since it is not listed as a heritage building. 68-70 Charles Street East and 628 Church Street buildings are all listed as heritage buildings and currently is a 3-storey apartment building with 20 rental units. 634-636 buildings is also listed as a heritage building and is a 3-storey semi-detached being occupied by two restaurants.
The Charles Church Condos will have five levels of proposed underground parking for 138 vehicular spaces with no visitor parking spots. There's also 506 bicycle parking spaces proposed for residents of the building as well as for visitors. Access to the underground parking garage is from Church Street as well. There is also 900 square metres of indoor amenity space proposed and 985 square metres of outdoor amenity space proposed located on the second to fourth floors and on the rooftop level.
Invest or live in the best, the past and the present are joined elegantly and luxuriously for those who choose to live here. The dramatic slender tower is connected completely with a perfect Transit Score of 100 and Walk Score of 99, it is located south of Bloor Street East and east of Yonge Street located close to the University of Toronto St. George Campus, Ryerson University, OCAD University, Mars Discovery District, Brookfield Place, TD Towers, the Royal Ontario Museum and St. Michael's College in downtown Toronto. When you live at the Charles Church building you will find yourself just steps from Toronto's majestic Bloor Street that connects the city with rapid, crosstown subway service. A walking score of 99 also means you have easy access the world's major luxury brands that line the prestigious avenues of the adjacent Yorkville neighbourhood, where you will find brands/stores like Cartier, Chanel, Holt Renfrew, Burberry, Prada, Harry Rosen, Louis Vuitton, Mont Blanc, Gucci and many more. Bloor-Yorkville is often compared to other acclaimed areas such Fifth Avenue in New York, Rodeo Drive in Los Angeles, and Chicago's Magnificent Mile. Lined with high end brands makes Bloor Street Canada's fashion mecca.

Register with us today for more information on The Charles at Church Condos by Aspen Ridge Homes!
Register today for more information!